FAQ

Here are some of the most frequently asked questions (FAQ) asked by our guests:
Q: Where can I buy gas, ice, and beer?
A: At B&S Express, a gas station and convenience store located less than a mile south of the cabins. River Ratz, just a couple of blocks south of the cabins, also sells ice and carry-out beer. You can also purchase snacks and alcohol at the Dollar General located in Cochrane.
Q: Is there a laundromat nearby?
Alma Homestyle Laundry is located at 209 S. Main Street in Alma. Phone: (608) 685-4557.
Q: Can I bring my pet? 
A: Big River Escape is pet friendly! Up to two pets can stay for a $10 per pet per night additional fee. Pets must not be left unattended in cabins. Please keep your pets on a leash and clean up after them. Please keep pets off furniture and bedding. Pet owners are responsible for any damages or accidents caused by their pet(s). Please see our Rental Policies page for more information.
Q: Can I check in early and check out late?
A: Check-in time is anytime after 4:00 p.m. and check-out time is 10:00 a.m.
Noon early check-in and late check-out are available for an additional fee. Contact us to schedule and check availability.
Q: Can we smoke in the cabins? 
A: Smoking, vaping, and deep frying foods in the cabins is strictly prohibited. An excessive cleaning charge of $200 will be charged for violations of this policy.
Q: I'm pregnant and my friend is bringing her infant daughter. Is it safe for them to drink the tap water?
A: No. The tap water at Big River Escape has nitrate levels exceeding the maximum allowed. This means that pregant and nursing mothers and infants should not drink anything prepared with the tap water. Do not boil the water as it will actually increase the nitrate level in it.
Q: What is your cancellation policy?
A: Reservations are non-refundable within 7 days of reservation. Prior to the 7 days, you will receive a refund less a $50 cabin fee. No shows forfeit the entire payment. No refunds or rain checks will be given due to weather conditions or early departure.
Q: I'm bringing a boat. Where can I park my truck and trailer?
A: Parking is available to the north of the pavilion in behind Buck, Eagle, Catfish, and Fox (cabins 6, 1, 2 and 3) on 20th Street. The area between (Catfish and Fix (cabins 2 & 3) should only be used as a loading area. Trucks, SUVs, and vehicles with trailers should park along 20th Street parallel to the road.
Q: I'm having such a great time! How can I reserve these same dates for next year?
A: Book anytime up to or during your stay for 10% off your next stay (subject to availability at time of re-booking).
Q: Do I need to bring my own firewood?
A: Firewood is available for $10 for a small wagon and $20 for a large wagon. Wagons can be found in the wood shed at the back of the property or in the courtyard. Please place cash in the provided cash box.
Q: Do you have WiFi?
A: Yes. Our internet connection uses fiber optic technology for lightning fast speeds.
Q: Where can I buy bait?
A: At B&S Express, a gas station and convenience store located less than a mile south of the cabins.
Q: Where can I rent a fishing boat or pontoon?
A: You can rent a fishing boat from us. We have a 14 1/2 ft HP tiller fishin boat for rent. A full day (8hrs) is $75 and a half-day (4 hrs) is $45. Contact us to reserve. There are two places to rent a pontoon in the area. Great River Harbor Campground and Marina, located 3.6 miles north of the cabins, offers full and half-day rentals. Alma Marina, located 8.6 miles north of the cabins, rents a 22′ pontoon with a 50 HP motor and a 2-person fishing pontoon for a full or half-day.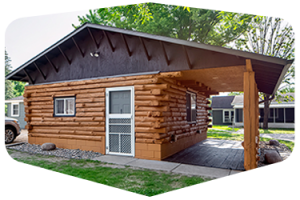 Our six cabins are nestled into a mature stand of trees providing plenty of shade after a long day on the Mississippi River.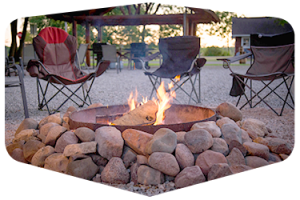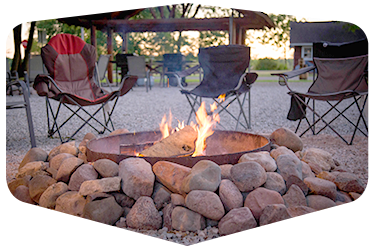 Explore the Mississippi River on your kayak, canoe, or paddle board. Bike a 10-mile trail loop on the Great River Road. Use one of our grills to prepare dinner and eat under the pavilion with a view of the river and the spectacular sunsets, and then toast a stack of s'mores around the campfire.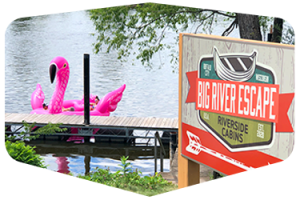 Experience the beauty of the Mississippi River, Buffalo City and the surrounding areas.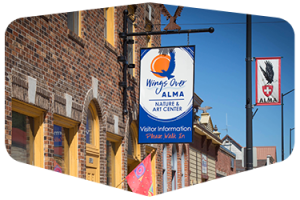 Venture out a few miles to experience unique gift shops and restaurants in the small towns to the north and south of Buffalo City. Makes a great addition to your motorcycle trip!