💙 Reviews
Here's what previous guests have had to say about their stay at Big River Escape Riverside Cabins.
"Looking for a last-minute mini-vacation before school starts? We had a great time kayaking and SUPing the beautiful Mississippi backwaters–and touring Rock in the House, Alma dam, and Prairie Moon Sculpture Gardens–while staying at Big River Escape Riverside Cabins just an hour drive away in Buffalo, Wis. Very clean. Very cool. Very reasonable." – Steve at Rochester Magazine
"We had an absolutely amazing time!!! The cabin was beautiful. It was completely perfect for our girls weekend!! The locals were amazing and the views and the fishing were perfect!!! 5 STARS for sure!!"
– Jenny G. (May 2021)
"Love staying at the cabins.  Very clean and has everything you need to make you feel at home!!  Having the docks for your boat makes the stay so much easier."
– Lisa B. (June 2021)
"Buffalo City was quiet and peaceful. My family enjoyed our stay. Brought my boat and enjoyed catching fish with my son in the serene backwaters and the main channel. Well worth the cost if you enjoy fishing or just relaxing around a campfire…"
– Mike P. (June 2021)
"Another great stay and we will be back! More fun had along the great Mississippi!!" – Ham D.
"Awesome place to stay. We did a weekend getaway and the Catfish cabin was so nice to chill and relax. Hardly knew anybody else was around. We will definitely be back soon. With a nice kitchen setup for cooking or we just went down the street for dinner. Thanks for having a great place to go." – Brenda W.
"We had our celebration of life at Big River Escape. We were impressed with all they had to offer. It is a great place to bond with the family! We will be back next year."
– Laura L.
"My friends and I have been coming to these cabins for the past 6-7 years. We love the clean and spacious cabins and appreciate the convenience of having River Ratz bar within walking distance. Thank you for making our stay so enjoyable each time!"  – Jen D.
"Thanks for a great stay!"
– Ashley O.
"We loved our first stay at the Big River Escape Cabins and will definitely stay again! The cabin (we stayed in Turtle #5) was clean, well maintained and had everything we needed. The entire property was also well maintained and we enjoyed three very quiet and restful nights. The location is perfect to exploring everything in this beautiful area of the country and next time we'll definitely bring the boat!! Can't wait to come back – and bring some friends!!" – Jill A.
"Thank you for a wonderful week. It was a successful fishing trip and added many new fish stories for our family. All the girls got a catfish in and I caught my biggest as well. Beautiful sunsets every night, made it hard to go back home." – Heather V.R.
"Fantastic place. Super family friendly. Love love love!!" – Becca Jean
"The cabins and outside areas are very clean. We weren't sure what to expect so we packed our own lawn chairs, canopy and grill but we never needed any of it. They have everything there on-site and the grills are extremely clean to use. Each cabin has it's own patio (5 of 6 are screened in) and there are a couple fire pits for everyone to use. If you have a boat, there is a pier/dock just across the road that you can use and leave your boat in the water during your stay if you choose. The owner was very friendly and attentive, making sure we were enjoying ourselves and had everything we needed. All you truly need to pack is towels and your food & drink and you will be set! – Nicole M.
"We recently returned from our week of relaxation & fun! Comfortable, clean & such a special spot on the Mississippi! We've enjoyed many years at this spot. Under new owners who are very excited to be owners & it shows. Thank you for the improvements & the care you are taking making it our home away from home! – Donna P.
"Had a fantastic trip to Big River Escape over Memorial Day weekend! Our favorite memories are from our annual family trip to the cabins each year in July. Counting down the days until we're back in less than 2 months!!"- Nick P.
"We have been staying here with our family for the last 4 years! Greg is the new owner and I met him personally. He is a great person and really cares about the place. They have made some great improvements around the property to make it even better than it already was. The cabins are always clean and have all the things you need to cook meals, relax, have a fire, and have a great time with your family on the Mississippi. You wont be disappointed staying here!" – Joshua R.
"Had a great stay over Memorial Day weekend." – Kristi D. O.

"Our family has been coming to the cabins for many years!! We have many great memories. One of our favorite things is cooking out on the grills, all eating together and then making a big fire and sitting outside." – Jill C.
"We stayed for a two-week fishing trip. As always we had a great time. Boat docks and cabins are wonderful." – John & Lisa B.

"This is a nice quiet place. Cabins are very modern and right by the river. You can dock a boat! We absolutely will be back! Greg is a super nice guy and he is pet friendly! We are talking about a cabin for ice fishing when they have a party on the ice!" – Ham D.

"We had a very nice stay, three motorcycles and great roads. Greg and his staff were friendly and helpful. The cabin was clean and comfortable with a great view from the screened porch. We will be back!" — Mike R.

Our guests enjoying the cabins and all the things to do!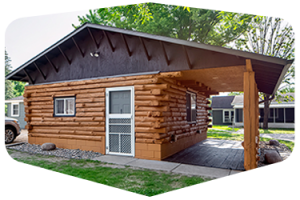 Our six cabins are nestled into a mature stand of trees providing plenty of shade after a long day on the Mississippi River.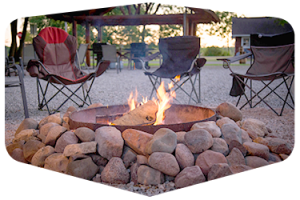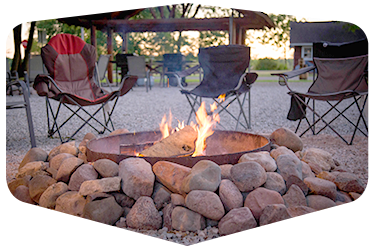 Explore the Mississippi River on your kayak, canoe, or paddle board. Bike a 10-mile trail loop on the Great River Road. Use one of our grills to prepare dinner and eat under the pavilion with a view of the river and the spectacular sunsets, and then toast a stack of s'mores around the campfire.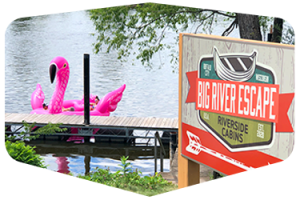 Experience the beauty of the Mississippi River, Buffalo City and the surrounding areas.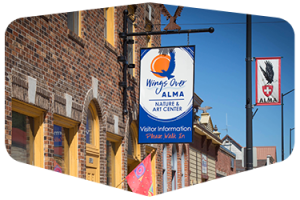 Venture out a few miles to experience unique gift shops and restaurants in the small towns to the north and south of Buffalo City. Makes a great addition to your motorcycle trip!